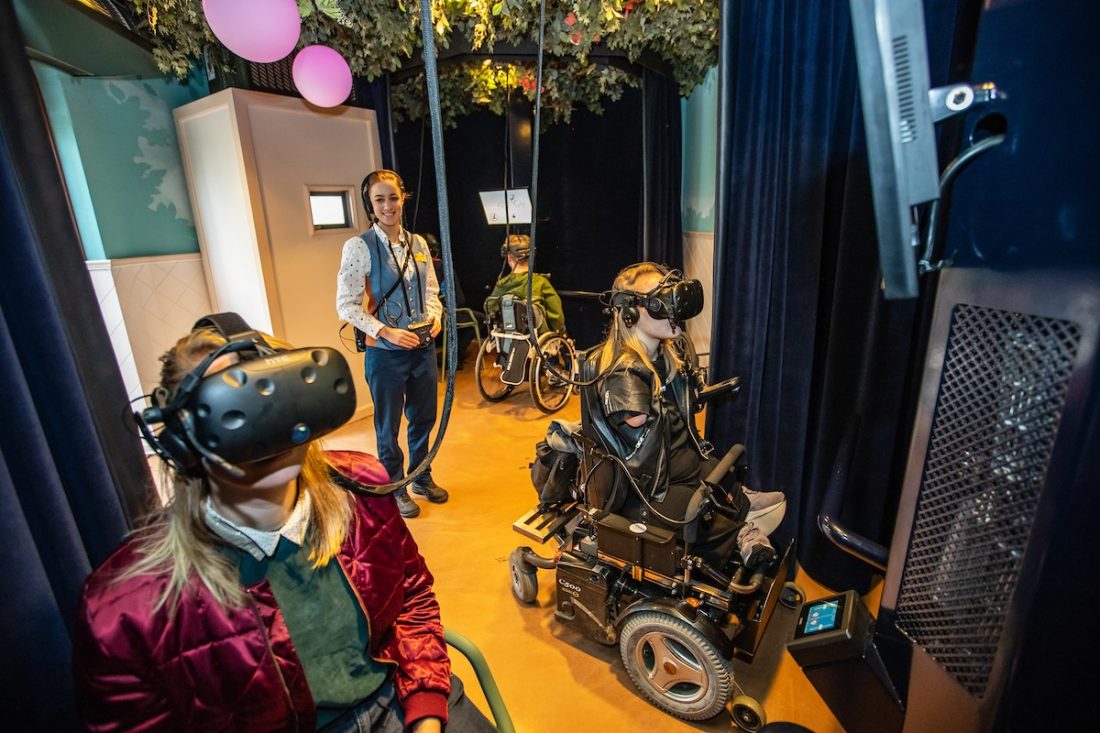 The future of accessible tourism experiences with VR
VR is popular within the gaming industry, but its uses in other industries are slowly being discovered. The concept of virtual reality (VR) has been around since 1929 and was mainly used by pilots and the military. Major growth of VR for the tourism and travel industry is still expected but this innovation needs a more social approach. The Next Tourism Generation spoke with Freek Teunen, a Dutch pioneer, about VR and applying VR to make a more socially inclusive travel industry. With seven years of experience, Freek is a real VR expert. Two years ago, he helped launch the world's first social VR experience at a theme park to make a family attraction accessible for disabled visitors.
* Header image: © De Efteling

Human touch and social approach to virtual reality
Freek Teunen works with his companies on the implementation of VR. In an early stage of his study on Creative Technology at Enschede University of Technology in the Netherlands, he discovered and worked with VRE – virtual reality Experiences. The equipment that he could use was reasonably high-tech and ahead of its time. Social interactions in VR are very important, perhaps even more important than the technology and the VR equipment itself. VR is something very personal and intimate because the creator is truly bringing the experience to the user. And while the creator decides what that environment will look like, it is the user who decides what he or she will see.
Freek Teunen © Nina Hawinkels
The focus with VR relies on experiences, the challenge with that is solving problems by using experiences. VR is an excellent medium to let someone use a different body in a different place.
''Companies have a lot of opportunities to do with content, design and technology'' says Freek. The human touch in VR is very important. Together with the Dutch theme park De Efteling he was able to make one of their most popular attractions 'Droomvlucht' into a VR experience, which really is the first step of solving problems for people with a disability. ''The first step should always be to make the physical location accessible for everyone nowadays. I have learned a lot from this project on a professional level, how technologies can be used to address problems and solve problems for people, test prototypes and see what can be improved in their experience.'' In the De Efteling case, it was all about bringing the attraction to the visitor with a disability. Freek is now involved in another project where they bring the playground to the hospital bed using VR. This way, the hospitalized child is seeing and playing in a playground from the perspective of a 'healthy body'. More information about the project 'PlaygroundVR' can be found here.
People are sensitive to the atmosphere and their surrounding in general, this is what should be taken very seriously in VR and especially with regards to the feeling that you want to give someone virtually. The feelings of a person are often forgotten in VR content.

Experience what disabled visitors experience – together
''A VR experience starts with customer journey design. We leave the control to the user but through clever tricks, someone can be moved towards a place or thought. This is not different from what theme parks, shops, and supermarkets are doing", says Teunen. In VR, creators have to make sure the feeling of the person who experiences it, remains important. Companies create VR that looks good, but it has beautiful opportunities to enhance feelings, memories and surroundings, having fun and being together with a different place and a different body. Especially for people with a disability, VR can create a whole new experience. Freek spoke with a person in a wheelchair a while ago and this person was not able to climb the mountains anymore. VR can recall memories on a specific location, and the visual story recreates a piece of memory by for example seeing the mountain view again. VR is the experience.
''The project with De Efteling started with the question whether we could create something meaningful for the target group with the use of VR technology. I quickly realized that the attraction was not yet accessible for wheelchair users. One of the most important learnings from this project was creating empathy. I knew I had to indulge myself in the target group by experiencing the limitations. You see how everything looks from another perspective, being in a theme park and not able to walk the stairs but in search of an elevator or another entrance. '' Freek has spent a day in the wheelchair in the theme park De Efteling together with people without a disability. "This is called design thinking, empathizing with the target group is also the first step in a design thinking process. It is all about understanding how VR could play a role in the consumer experience." Of course interviews with the target group were a part of this research. ''Doing interviews first gave an overview of challenges faced by the target group, so I knew what I had to experience. After that day, I had a much clearer view and understood their challenges because of my own experience.''
© De Efteling
There is one big learning mentioned by Teunen while creating the VR Experience for De Efteling. ''Friends and family are an important part of experiences in theme parks, so we had to facilitate the connection between the virtual and the real experience of the Droomvlucht attraction.'' Visitors of a theme park going into an attraction usually sit together or behind each other, so they can talk. ''We added a live connection with sound to the people who step in the real attraction and the person in a wheelchair in the virtual attraction. The virtual experience starts at the same time as the cart in the real attraction.'' In this way, people can experience the same views and storyline and are connected to talk about it if wanted.

The future of VR and AR
VR technology is a revolution in the experience industry. At this moment, the operating systems of VR have some limitations but will be improved to better interactions in the near future. Nowadays, the screen of a computer can be adapted with colours and contrasts, for people who are colourblind. Other functionalities, such as selecting buttons with your eyes (eye-tracking), or using your head to press a button, are not available in VR yet but these functionalities are coming soon. The glasses are already for sale. The body can interact in a different way within VR experiences, different abilities can be used to have a great experience.
There is already a lot on the market when it comes to algorithms and techniques to build this in the application. ''There are algorithms that can be built in the software of (game) controllers for people with a muscle disease who have shaky hands. The vibrations are predictable in the algorithm and cancel it out, just like a stabilizer for a camera for example. The user will see completely still hands in VR. Imagine the possibilities for a user again, like being able to paint again", says Freek.
In the future, VR and AR (augmented reality) will be more interconnected. That means that experiences from people in virtual reality can be shared and experienced with others who are not in virtual reality through augmented reality. This is called mixed reality. ''In the leisure area, there are some good examples of VR sports games where the audiences can watch what the person in the game is experiencing.''
Augmented Reality provides extra content or information and this is especially useful for tourism. Tourists in a new place, usually feel a little lost. Google Maps AR provides solutions for more context or character recognition, and this can be a solution as well for people who have difficulties to understand text or characters, or have mental disabilities.
Follow the efforts of the Next Tourism Generation via our website, Facebook, Twitter | #NTGskillsalliance or via LinkedIn